Our knowledgeable staff are passionate about providing families guidance and support during the funeral planning process and well after the funeral. Together, we can honor your loved one's life while beginning your grief journey.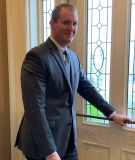 Jack Stickle
Proprietor
Jack W. Stickle II became a member of the Henderson - Van Atta Funeral Home family in December of 2007 and purchased the business in 2008. He graduated from Licking Valley High School in 2000 and went on to attend The Ohio State University, where he graduated with a degree in Agricultural Science in 2005. Jack's initial plan was to join the Peace Corps but after working at a local funeral home decided to become a funeral director. He graduated from the Cincinnati College of Mortuary Science in 2006 and is a licensed funeral director and embalmer.
Jack is a native resident of Newark with family ties to Licking County reaching back two centuries. He has a strong passion for service to his community and his church. Jack is a member of the Newark Rotary Club, has served on the Licking County Chamber of Commerce Board and currently serves on the Licking Memorial Hospital's Development Council. A life-long parishioner of Blessed Sacrament Catholic Church, Jack is also a strong supporter of the sacred music program at St. Joseph Cathedral in Columbus.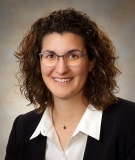 Kate B. Stickle Maher
Funeral Director
Kate B. Stickle Maher became the newest member of our professional family in the autumn of 2020 when she was licensed as a funeral director by the State of Ohio Board of Funeral Directors and Embalmers. She is already a familiar face to many of the families we serve as she has been working alongside her brother Jack as an apprentice director and directors' assistant for the past 5 years.
After graduating from Newark Catholic High School in 2004, Kate was awarded a Bachelor of Science in Education with honors by The Ohio State University in 2008. She also holds a Master's degree in Management from Mount Vernon Nazarene University, which she achieved in May 2011.
In 2014 Kate was a member of the Chamber of Commerce graduating class of Young Leaders of Licking County, and in 2015 she was recognized by the Newark Advocate in its "20 under 40" awards. Before joining our team, Kate served as the Public Information Officer for ODOT, District 5, and was the Volunteer Services Manager for Licking Memorial Health Systems.
Kate is an active parishioner of her Church where she is part of the women's group and the Pretty in Prayer team. She is also a member of the Granville Chapter Daughters of the American Revolution and Madison Grange #1981.
Kate and her husband, Michael Maher, were married in 2013, and they are the very proud parents of Thompson, Lucy, and Rosemary. In her spare time , Kate enjoys spending time with her family and friends.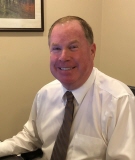 Matt Engle
Licensed Funeral Director and Embalmer
Matt has been a licensed funeral director and embalmer for over 30 years. Born and raised into a funeral family in Tiffin, Ohio, he began his career with a small funeral home in northwest Ohio, before spending eighteen years in sales with Batesville and Aurora Casket Companies.

He attended The Ohio State University and is a graduate of the Cincinnati College of Mortuary Science. Matt has a long-standing commitment to the funeral industry enabling him to serve families with care and professionalism. He is also licensed with the State of Ohio to fund prepaid funeral contracts and operate a crematory.

Matt married his wife, Susan (Siebert) in 1985; together they have three adult children, Turner, Carson, and Riley. Spending time with his family, listening to music, seeking out antiques and treasures, and collecting pre-war baseball cards are a few of his interests.

Matt has served the community of Newark for the past eight years, with the dedication characteristic of the original funeral home founders. He takes a deep personal interest in each family he serves. "He's like meeting with an old friend of the family."