Our knowledgeable staff are passionate about providing families guidance and support during the funeral planning process and well after the funeral. Together, we can honor your loved one's life while beginning your grief journey.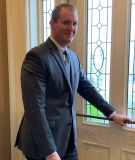 Jack Stickle
Proprietor
Jack W. Stickle II became a member of the Henderson - Van Atta Funeral Home family in December of 2007 and purchased the business in 2008. He graduated from Licking Valley High School in 2000 and went on to attend The Ohio State University, where he graduated with a degree in Agricultural Science in 2005. Jack's initial plan was to join the Peace Corps but after working at a local funeral home decided to become a funeral director. He graduated from the Cincinnati College of Mortuary Science in 2006 and is a licensed funeral director and embalmer.
Jack is a native resident of Newark with family ties to Licking County reaching back two centuries. He has a strong passion for service to his community and his church. Jack is a member of the Newark Rotary Club, has served on the Licking County Chamber of Commerce Board and currently serves on the Licking Memorial Hospital's Development Council. A life-long parishioner of Blessed Sacrament Catholic Church, Jack is also a strong supporter of the sacred music program at St. Joseph Cathedral in Columbus.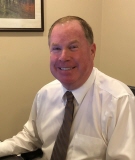 Matt Engle
Licensed Funeral Director and Embalmer
Matt has been a licensed funeral director and embalmer for over 35 years. Born and raised into a funeral family in Tiffin, Ohio, he began his career with a small funeral home in northwest Ohio, before spending eighteen years in sales with Batesville and Aurora Casket Companies.

He attended Ohio State University and is a graduate of the Cincinnati College of Mortuary Science. Matt has a long-standing commitment to the funeral industry enabling him to serve families with care and professionalism. He is also licensed with the State of Ohio to fund prepaid funeral contracts and operate a crematory.

Matt married his wife, Susan (Siebert) in 1985; together they have three adult children, Turner, Carson, and Riley. Spending time with his family, listening to music, seeking out antiques and treasures, and collecting pre-war baseball cards are a few of his interests.

Matt has been with the Henderson-Van Atta – Stickle Funeral & Cremation Service for over eight years. He's like meeting with an old friend of the family.